Funny Tattoo Love Skull Weed Crocs. Iconic crocs are easy to wear, fashionable, and durable. A truly unique footwear that many love to wear.
Look no further! We have the best selection of Weed Crocs. Our products are made of high-quality materials and are sure to last long. Order yours today!
Our Funny Tattoo Love Skull Weed Crocs are not only stylish but also comfortable and long-lasting. The high-quality material used in the manufacturing process ensures that these Crocs are lightweight and flexible, making them ideal for long walks or daily use. You will love the soft and comfortable footbed that conforms to your feet, providing you with ultimate comfort. Moreover, the non-marking outsoles are slip-resistant, which means that you can wear these Crocs even on slippery surfaces.
These Funny Tattoo Love Skull Weed Crocs feature a unique and eye-catching design that will make you stand out from the crowd. The combination of the vibrant colors, tattoo-inspired design, and skull and weed motifs make them a perfect accessory for any casual outfit. These Crocs are not just shoes but a statement of your style and personality. You can wear them to the beach, to a music festival, or just around town, and you will always turn heads.
Our Funny Tattoo Love Skull Weed Crocs are not only versatile but also environmentally friendly. They are made from recycled and eco-friendly materials, which means that you can wear them with pride, knowing that you are doing your part in protecting the environment. These Crocs are perfect for anyone who wants to make a fashion statement while being environmentally conscious.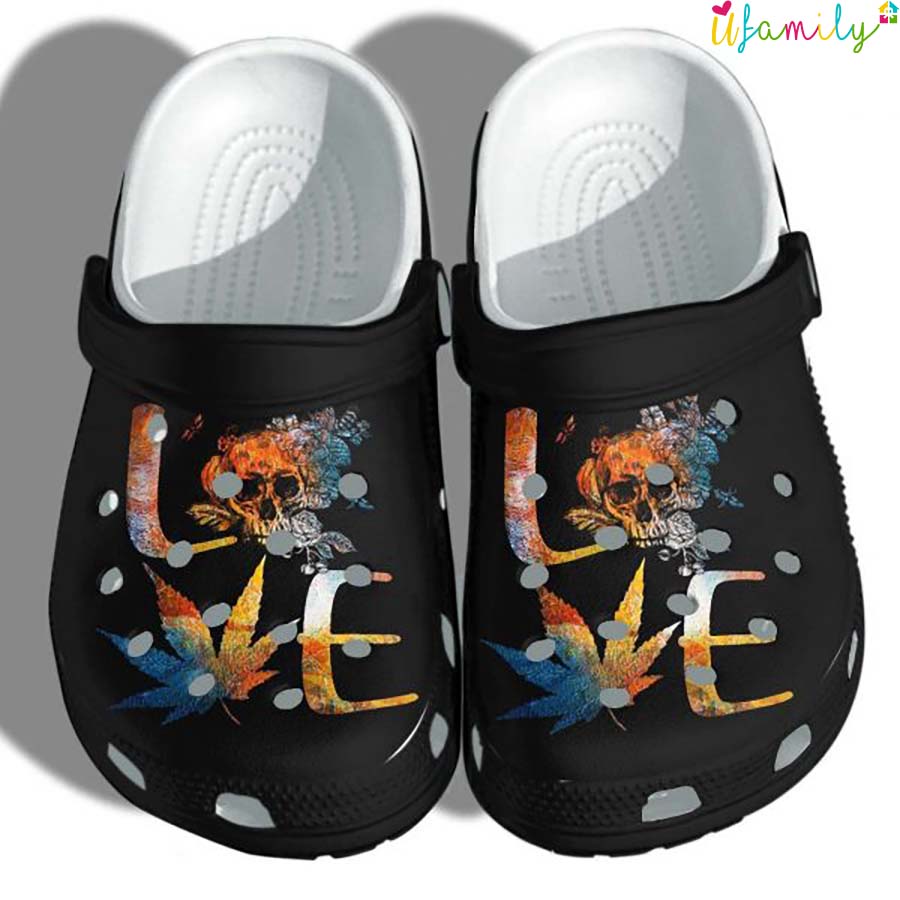 FEATURES
Iconic crocs are all for functions and comfort. More than functional footwear, our clogs look trendy and fashionable with unique printings and designs.
They are the perfect statement pieces that enhance your unique styles. Add more personality and fun to your individual style with these trendy clog shoes.
Material: Ethylene Vinyl Acetate: Lightweight, flexible, comfortable to wear. Very durable and can be used for a long time.
Ventilation ports to increase breathability, make it easy and quick to drain moisture and debris
Slip-on style, easy put on and take off.
Roomy fit and versatile designs with heel strap for a secure fit. You can wear it either as a flip-flop or a sandals
Supportive insole designs that make your feet comfortable for a long time
Various sizes: Easily fit different foot sizes, perfect for both men and women.
EU size is printed on the bottom of the sole
Easy to clean with soap and water.
Vibrant and long-lasting print all over the outer surface.
Thank you so much for your choice.
I really would like to see you in my store again!
"